Ein Interview mit Valery Ponomarev
Von Eckhard Fürlus
Dank der Initiative einiger Jazz-enthusiasmierter Persönlichkeiten gibt es seit 2018 eine Jazzakademie an der Nordsee, die inzwischen durch Konzerte und Workshops auf sich aufmerksam gemacht hat. Veranstalter sind der Landkreis Friesland, die Stadt Jever und die Musikschule Friesland-Wittmund; die künstlerische Leitung der Jazzakademie liegt in den Händen des Jazzpianisten Klaus Ignatzek.
Am 1. Dezember 2019 spielte Valery Ponomarev mit seiner aktuellen Besetzung, dem Forever Art Quintet, im Anton-Günther-Saal des Rathauses in Jever. Ponomarev war in der zweiten Hälfte der 1970er Jahre Trompeter bei Art Blakey & The Jazz Messengers und hat bei vielen Konzerten und zahlreichen Schallplatteneinspielungen Art Blakeys mitgewirkt. Sein aktuelles Quintett besteht aus Valery Ponomarev, Trompete, Lluis Capdevila, Klavier, Ralph Reichert, Tenorsaxophon, Ignacio González, Bass, und Joris Dudli, Schlagzeug. Schon im Namen der Formation klingt an, dass die Musiker dem Schlagzeuger und Bandleader Art Blakey in vielerlei Hinsicht verpflichtet sind. Wir nutzten die Gelegenheit zu einem Gespräch mit Valery Ponomarev.
Eckhard Fürlus: Good evening, Valery Michailowitsch. I have a few questions. But first of all: Thank you very much for this great concert and for being here in Jever.
That really makes it special, and you feel it.

Valery Ponomarev
Valery Ponomarev: My great pleasure. I and the whole band, we had great times here. It is such a beautiful atmosphere. Very musical. Very artistic. And all this is beautiful. The piano is georgeous, the whole set up, the Christmas tree behind us – I can't wait to see all those pictures. So many friends came. That really makes it special, and you feel it. Something is special about this place. We absolutely loved playing. A fine gentleman showed me pictures, photos of myself with Art Blakey and The Jazz Messengers. My first year … my first tour of Europe with The Jazz Messengers …
Eckhard Fürlus: Nineteen-seventy …
Valery Ponomarev: … seven. My first tour in Europe with The Jazz Messengers was in the beginning of April, and he showed me pictures. April 77. Pictures of beautiful Walter Davis here of course, David Schnitter and Bobby Watson and Dennis Irwin. And whole … page after page of pictures, many, many pictures. Other friends of mine came. We are friends anyway. We will keep stay in touch ever since we met many years ago at one of my tours. Hannelore – it was her birthday – and her husband Wolfgang Giese – beautiful people, so great to see them! And one lady came up to me. She is Russian, married to a German gentleman, and she said – anyway, beautiful people, just georgeous – and her husband and herself of course, they're making very famous wine here. She told me and gave me the name, but I have forgotten …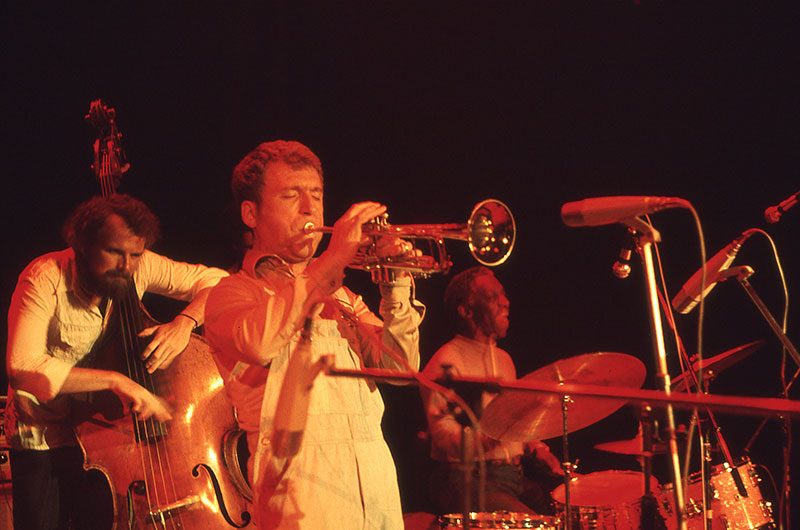 Eckhard Fürlus: I will look for that. Your current formation or line up, the Valery Ponomarev Quintet, is called Forever Art. Forever Art Quintet. Is this still a contribution to Art Blakey?
Valery Ponomarev: Of course. Actually the idea was to call it Art Blakey Centennial Quintet. But it got turned around instead of being called Art Blakey Centennial Quartet – we played in that quartet many concerts – and then the saxophone player has joined in and we became a quintet. But it should have been the same centennial quintet. Art Blakey Centennial Quintet. So it would have been clear right away was the idea. But others – actually you know it is easy to figure out what we are talking about. But it is still tribute to Art Blakey and the legend of the Messengers.
Eckhard Fürlus: How did the personnel or the line up come together?
Valery Ponomarev: This one?
Eckhard Fürlus: This one.
Valery Ponomarev: Well, we were playing … for example … piano player, every one of them, without exception, … all great musicians and could be the best anywhere in the world.
Eckhard Fürlus: Everybody is convinced about that.
Valery Ponomarev: Absolutely. And I repeat it and repeat it and I'm happy to say that, you know. Just like Art Blakey used to say: "If you know the truth don't be afraid to say it." That's the truth, they are fantastic musicians. One of them, for example, Llouis Capdevila, the piano player, years ago as a young man he was a student of mine in America at a jazz camp in Vermont, and I know him since then. But we kind of … our connection started so to speak recently. I played a tour with him in May in Spain and he became a fantastic musician, fantastic piano player, very sensitive, yeah – knowledgeable and just doing a beautiful great job. And also he introduced me to Ignacio González, also from Spain. They are buddies from Spain. I met him on that tour in May, but we played like maybe one or two concerts only, but it became obviously that he is a great musician, too. And actually, who wouldn't play with somebody that is to me a very good player. So that was Ignacio González. Fantastic players. Swingin' – you heard it. And of course Joris Dudli's like old friends. I know Joris like from 20, maybe 25 years ago. We played a lot at that time in New York, and in Europe we played a lot. We went to Russia once. I took him to Russia – when was it? Actually you know he was with me in Russia – I think it was either 90 or 96. That long ago. If it was 90 than it is almost 30 years ago. Pictures are available on the facebook or youtube or somewhere there. Asked playing in Moscow with some other American musicians, and I came there as an American bud, you know I was born and raised in Moscow.
Eckhard Fürlus: I have a few questions about that. One of them is: You can get a glimpse or an impression of how strong your relationship is to the trumpet while reading the article published in the New York Times when you were arrested by French policemen …
Valery Ponomarev: Oh Jesus! It's ridiculous.
Eckhard Fürlus: … they broke your arm. It is unbelievable.
Valery Ponomarev: Police or not. They are still human beings. But they knew what they were doing. I explained many times in clear English: That's an international airport. They should have known, they should have realized: I'm just a passenger and my luggage, musical instrument, is booked all the way through from Paris to New York. They didn't want even listen to that. They were producing crazy problems. They did … I mean what else can I say? We're still human beings. Police or not, you know. And then actually one of them in English was trying to ask me to sign some papers. I said, "Wait a second. You just said you don't understand English." I was already with broken arm and all that … Medical service came, actually I payed tribute to a French doctor who treated me, 'cause they came to the hospital, and they tried to collect me and take me somewhere else. He ordered them to get out of the hospital. That French doctor, God bless him. Somehow in France, the doctor has authority over police. He kicked them out. God bless that man. But all in all, partnership or not, they refused to pay any finances or penalties. They just behaved like they didn't do anything wrong. Stupid!
Eckhard Fürlus: When did you get in touch with the trumpet? You play trumpet and fluegelhorn. What difference does it make?
You know, as a trumpet player you always end up playing fluegelhorn or cornet.

Valery Ponomarev
Valery Ponomarev: You know, as a trumpet player you always end up playing fluegelhorn or cornet. Most often fluegelhorn, because it's the same exactly instrument, except it sounds different. And very often the arranges, particulary big band arrangements or recordings, they require fluegelhorn rather than trumpet. So no matter how much you love trumpet, you still have to have fluegelhorn. But it is such a beautiful instrument anyway. I'm a trumpet player, I enjoy trumpet.
Eckhard Fürlus: What kind of music did you hear before you came to hear Clifford Brown, Freddie Hubbard and so on?
Valery Ponomarev: Great question! The thing is: I was already a trumpet player. I enjoyed playing trumpet of course from the start, from the beginning. And I was already in the college, in a musical college, learning classical music. But what's so interesting: I never thought of myself … I never saw myself a classic trumpet player. But I didn't hear jazz yet. But I was playing trumpet. I enjoyed that instrument. And at one point I heard Clifford Brown I knew this is it. That's my soul, that's my nature, that's my personality. That's what I love to do. And I knew it right then: I'll be doing it all my life. And I still love it. What else can I say?
Eckhard Fürlus: The programm of this evening – will it change while you are touring? Or is it nearly the same set that you are playing tomorrow in Erlangen?
Valery Ponomarev: A good question about the repertoire. You see the tour we're gonna play and collect for the performers – the repertoire for this particular concert or this particular tour … I thought about it, but the idea is that you never really play exactly the same. Maybe a couple of concerts in the role you play exactly the same. Even that already stops the sound kind of stale a little bit. For that reason, for the same spirit I have different tunes. I change them a little bit, and sometimes I change a lot. Sometimes we play all different tunes from the night before, but the spirit is the same. We keep the same atmosphere, spirit.
Eckhard Fürlus: There is a documentary about you and your playing trumpet. I think it is from 2011. The title is "Trompeter from Russia".
Valery Ponomarev: "Trompeter from Russia" – that film is called after my book.
Eckhard Fürlus: Is this film still available?
Valery Ponomarev: It is in the internet somewhere, but actually today I gave the DVD to my friends, and it is the last DVD I have. I can send it to you, just give me your e-mail. But it is there, you can find it on youtube.
Eckhard Fürlus: One of your LPs – "Means Of Identification" – contains a Russian Christmas Song.
Valery Ponomarev: Producers insisted. The producers asked: Could you please do a Christmas Song? I was happy to do that. I'm singing that.
Eckhard Fürlus: In Germany we only know very little about the jazz scene in Russia. Is there something that we should know? Could you please say a few words about that? Are there festivals of jazz music in Russia?
The thing is: In Russia talent was there always.

Valery Ponomarev
Valery Ponomarev: Very interesting. I like all your questions. The thing is: In Russia talent was there always. Interest was there always. Jazz triggered that incredible free emotion. In Russia people they all love jazz and where it comes from. Musicians of course studied and learned it. But I always knew that once Soviet system exists no more, then Russian natural talent will show up easily without any restrictions. And that is exactly what happened. You know, once Soviet Union collapsed and Russia emerged as a country, all these talents are from everywhere, from anywhere. Talent, talent, again another talent, again another talent, and so many saxophone players, piano players … great talents. There are festivals probably more than anywhere else right now in Russia. Always somewhere great festivals. And American musicians, and I know from other countries also, but they live in America. I hear it from American musicians, they go there all the time. Obviously I go there myself very often. Festivals very often are better than in the US. That was so interesting. I wouldn't say all of the US, but somehow in Europe, like Germany, Italy, France – the way, festivals are organized with more respect to music, to musicians, with more artistic legend, with more artistic tradition. And it shows …
Eckhard Fürlus: I think of Paris of the Fifties, when so many musicians came to Paris.
Valery Ponomarev: That's right. Germany. Clubs in Germany. Frankfurt, Jazz Keller. That started in Fifty-two. Probably the oldest jazz club. In Italy, too. In Italy, Germany, France – you name it. Spain. England, of course.
Once a Messenger – Always a Messenger.

Art Blakey
Eckhard Fürlus: Last question. One of your LPs is called "The Messenger". Do you feel and see yourself still as a Messenger? And if so, with this interview we will try to spread your message as good as we can.
Valery Ponomarev: Thank you. Thank you. The answer to this question is this: Art Blakey said very often – I heard it from him many, many times: "Once a Messenger – Always a Messenger."
Eckhard Fürlus: Good to hear that.
Valery Ponomarev: That's what it is. That stays that way. And when somebody says: Jazz Messenger or he was a Messenger – Sorry! Wrong! "Once a Messenger – Always a Messenger."
Eckhard Fürlus: Thank you so much.
Valery Ponomarev: My great pleasure. Great speaking with you. You came up with all these great questions.
Eckhard Fürlus: I hope that I do not leave you breathless.
Valery Ponomarev: (laughing).
Eckhard Fürlus: Spasiba.
Valery Ponomarev: Dankeschön.